https://clujxyz.com/s/0mknv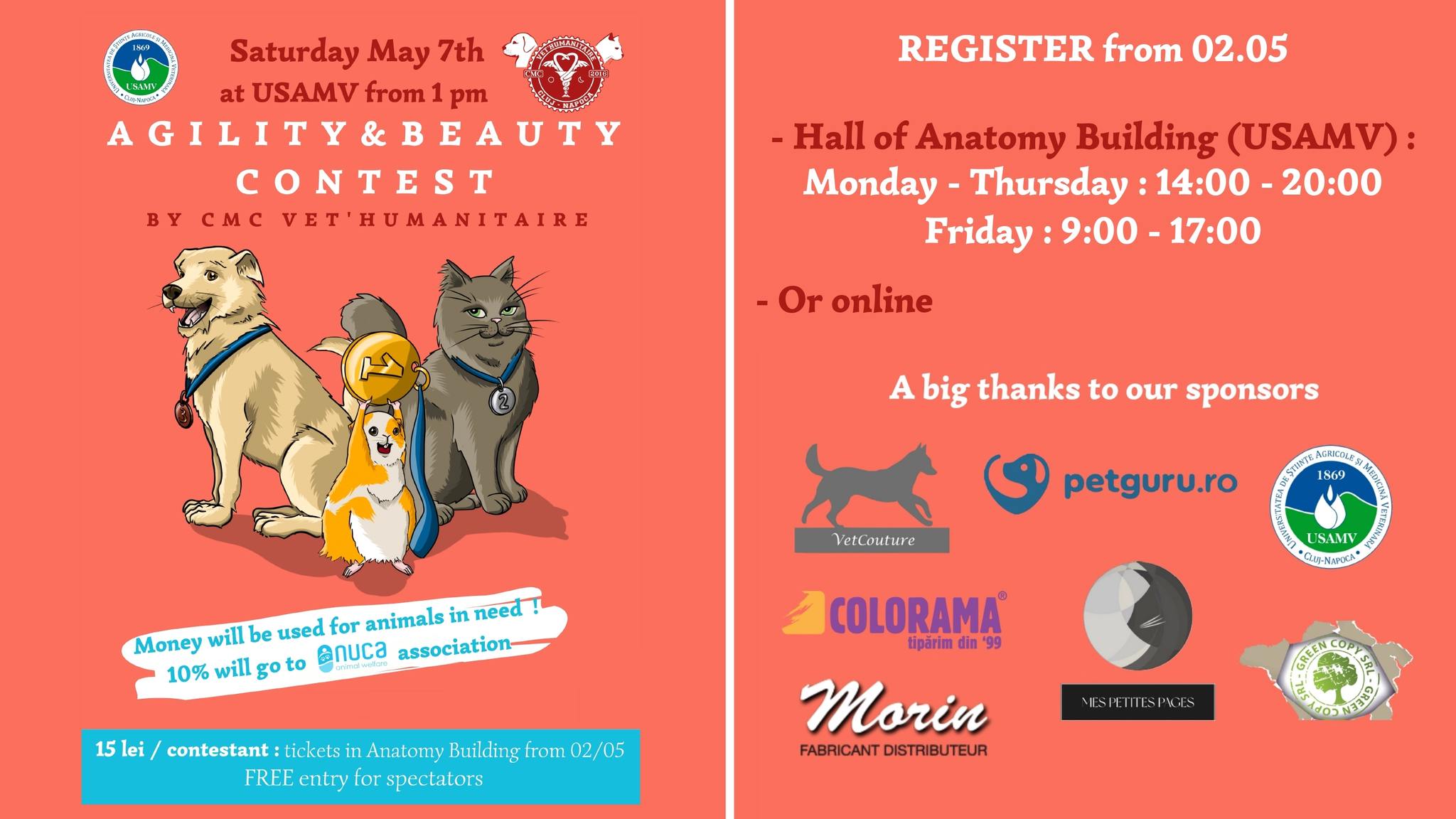 Do you want to show to everyone that your animal is the best ? 
Nothing could be easier : register to the Agility and Beauty contest couple animal/owner and show us the complicity you have with your pet !
> 
 Incription :
– 15 lei/couple (no matter what contest you take part in, you can also participate in 2 contests)
– Each participant will receive a bandana for his/her animal+ a sticker
– The entrance is free for spectators!
You have the possibility to register with your animal in 3 different categories:
1) Beauty contest for cats and other species 
2) Beauty contest for dogs 
2) Agility contest for dogs 
> 
 How to register ?
Come to register your couple in the hall of the anatomy building of the USAMV ( the path will be indicated from both entrance of the school) :
From 02/05 to 06/05 between 14 :00 to 20 :00 on Monday to Thursday and between 9:00-17:00 on Friday 
 You can also register online and pay during the week at USAMV or on D-Day at the Event at 12:30 ! (register link : 
https://forms.gle/xvgT4gcRBpNu8HMY7
 )
 You have to keep on you the health record of your animal and show all of this to the reception table the D-Day. Animals' vaccination certificates must be up to date.
Money will be used for our projects in Romanian shelters and 10% of our benefits will go to NUCA animal welfare association in Cluj-Napoca ! 
The first five couples of each contest will win some gifts ! 
> 
What ?
– Beauty contest : this contest is opened to all species and everyone. You can be sure that we accept every owner : any age, any job, any marital status ! 
During your participation you will have to :
Salute everyone
Walk with your animal in front of the jury and the public
Show your animal to the jury and make a short presentation
Present a little thing which can distinguish your couple from the others
Say goodbye
Any effort to highlight your animal or your complicity will be rewarded by the jury and with a great smile it will be even better ! For example, you can match yourself with your dog's coat 
– Agility contest : this contest is open to dogs, even if you never tried before, you can come and have fun ! 
The agility track is quite simple and open to every level, even to very beginners !
If you decide to participate for Agility, we will install the track on Friday May 6th on the main garden in front of the Aula Magna Building so you can come and try your skills with your dog
The style and time of your passage will be evaluated. The jury will consist of hunky dory teachers and 5th year vet students from USAMV.
After each category we will do an award ceremony 
> 
 What other surprises did we plan for you ?
You will have the chance to enjoy food prepared by the volunteers for this special occasion in the refreshment area ! 
Come and discover our new goodies, specially made for this event !
Some photographers will be here so you can keep a souvenir with your animal ! 
> 
 When ?
On Saturday, 7th of May, beginning of the event at 13:00 for spectators.
For the participants :
– For beauty contest make sure to be here at 12 :30 for cats and 13 :30 for dogs
– For Agility contest please make sure to be here at 15 :30
>
Where ?
At USAMV on the main garden in front of the Building Aula Magna, just follow the music !
We hope you will all be able to come !
The CMC Vet'Humanitaire team
Contact :
[email protected]
OR CMC Vet'humanitaire on Facebook
https://clujxyz.com/s/0mknv