Global Webinar: Ukrainian Women for Peace

[wbcr_php_snippet id="4438"]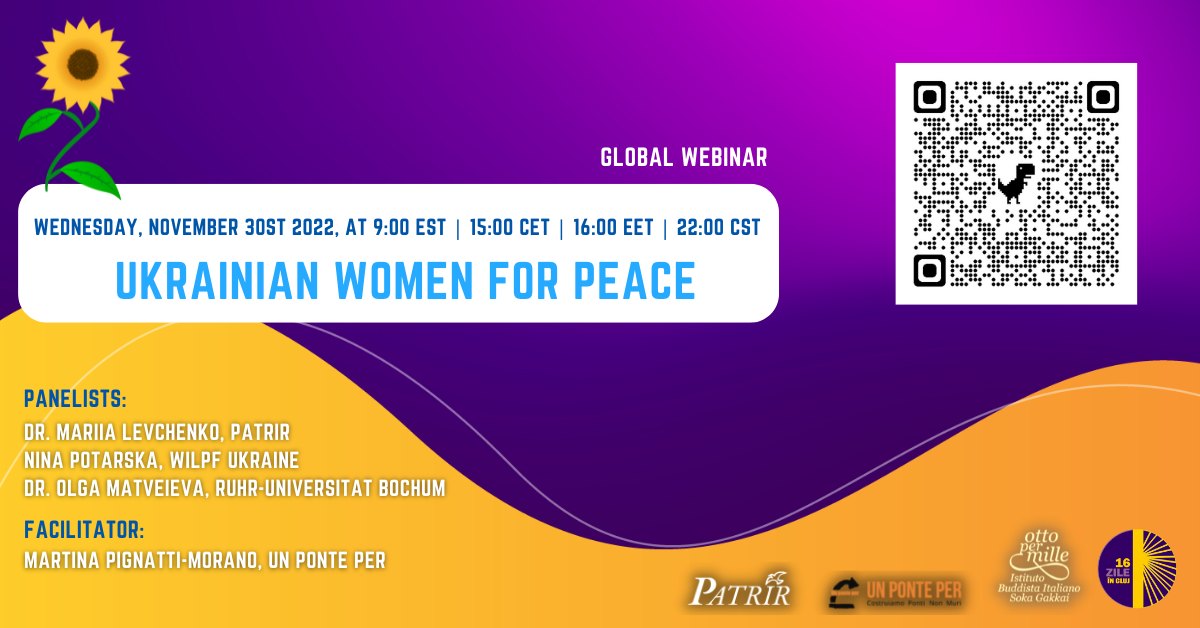 During the 16 Days of Global Activism Against Gender-Based Violence, join us to hear from women Ukrainian peacemakers, who will speak about the current challenges for peace workers working on the Ukraine crisis from a gendered perspective.
The three guest speakers – Dr. Mariia Levchenko (PATRIR), Nino Potarska (Women's International League for Peace and Freedom – WILPF), and Dr. Olga Matveieva, Ruhr-Universitat Bochum – are experienced experts and practitioners at the forefront of dealing with issues of peace and the impact of the war on Ukrainian society.
The aim of this panel is to bring forward the Women, Peace and Security agenda through a safe space for women from Ukraine in the midst of invasion to feature their work, views and challenges from the field to an international audience that is curious to know more about what is happening in Ukraine today from a gendered perspective.
It will be a moment to listen, exchange, share lessons learned and be empowered and inspired; to see how women are, even in the most challenging and difficult situations, deeply engaged to create for a better world.
Open to all, the event will highlight the extraordinary work of women peacemakers in Ukraine, share experiences on how the invasion, occupation and war are affecting Ukrainian society, and what is being done by peaceworkers in Ukraine – as well as how international allies, partners and governments can support.
Please join us for this powerful and important event, and help share it further through your networks to invite others to take part.
[wbcr_php_snippet id="4438"]