Cluj-Napoca Mayor, Emil Boc, attended the 146th CoR Plenary Session and has expressed the need for an urgent and coherent European response, to the rapid increase of energy prices over the past few months.
Plenary sessions give the opportunity for CoR Members (or Alternates) to voice their opinions on EU law that may have an impact on regions and cities in the 27 EU countries.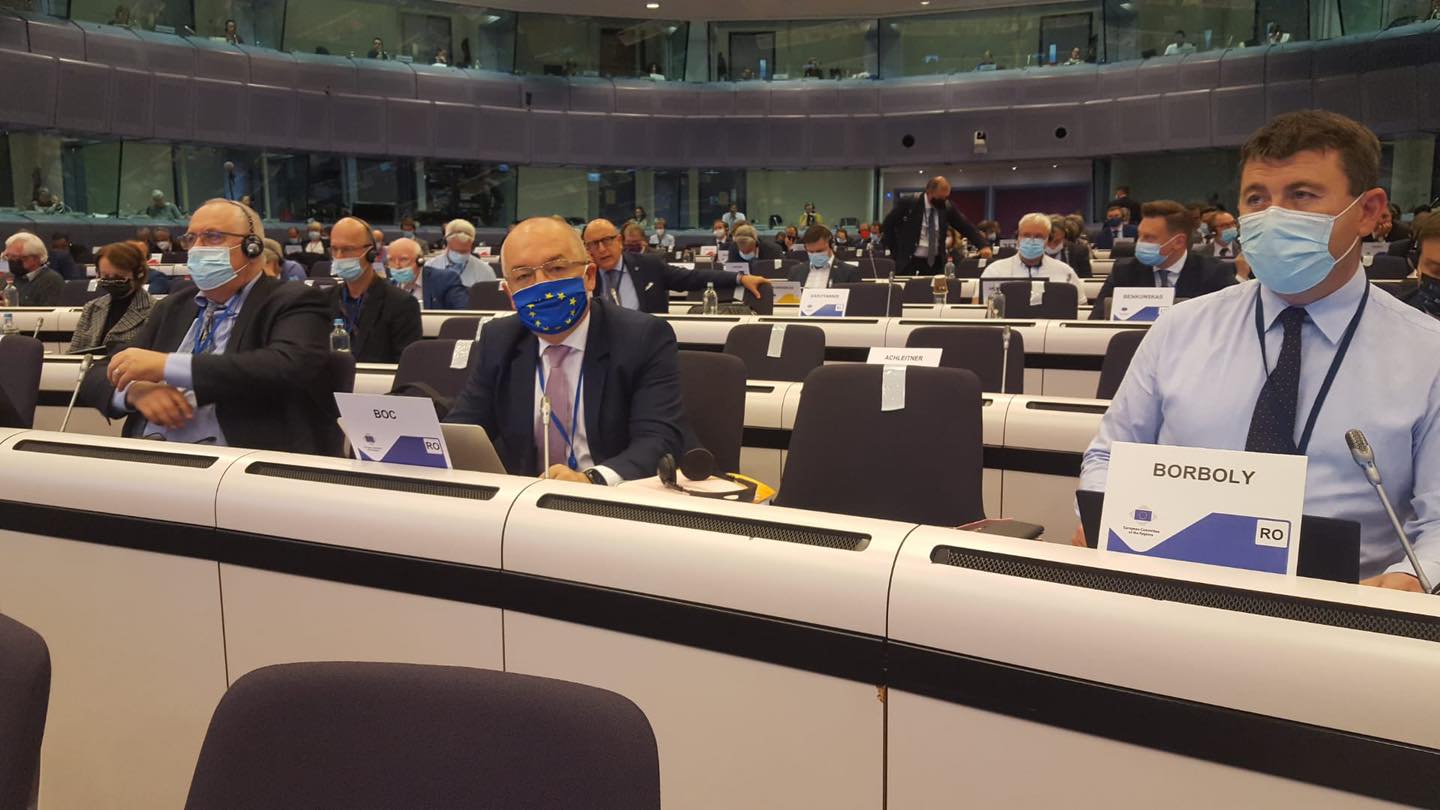 On his Facebook page, the mayor said, "Doubling or even tripling the prices of gas and electricity in the European Union seriously affects the standard of living of Romanian citizens, as well as many citizens from other European Union countries.
In the long run, the solution is to achieve energy independence by the European Union based on renewable energies.
The gravity of the current situation calls for an urgent and coherent European response to this crisis, in addition to the individual measures taken at the level of each state.
The Prime Minister of Slovenia, Janez Jansa, in the context of the Slovenian Presidency of the Council of the European Union confirmed the gravity of the crisis related to rising utility prices and said that the European Commission is preparing several solutions that will be presented soon"
Between July 2020 and 2021, official statistics revealed that electricity prices increased by 25% and gas by 20%, however prices continue to rise, with an expectation that they will continue to increase over the winter period, as Romania's domestic production does not cover the country's consumption. This means that Romania has to import energy from other countries across the EU.
How bad is the EU's Energy Crisis?
Europe is currently suffering from a shortage of fossil fuels such as natural gas and coal as a result of a huge jump in consumption as most countries emerged from lockdowns in response to the COVID-19 pandemic, and demand is much higher than supply. For this reason prices have increased and resulted in shortages around the world, but especially in Europe.
Last year, Europe had a particularly cold winter, this, in combination with the fact that many countries had a "stay home" policy to prevent the spread of the COVID-19 virus, people were heating homes for longer than they normally would. In addition, the EU has a goal to reduce the amount of fossil fuels in production, meaning that there has been a lower production of these fuels in general and less capacity as a result.
There has also been suggestions that Russia has been limiting its gas output to pressure the EU into approving the NORD STREAM 2 pipeline. Gas flows from Russia decreased from 118bcm in 2019 to 99bcm in 2021 (17% drop), although Gazpromt, Russia's national gas company, has said that they are not doing this deliberately or for political reasons, but instead due to the fact that domestic Russian demand and that they might increase output to Europe going forwards.
To put this into perspective, European natural gas prices have skyrocketed by over 600% (around €20/MWh to €150/MWh) and European coal prices have increased by almost 400% (around $50/metric ton to $240/metric ton).
As coal and natural gas still account for 20% of all energy production in the EU, this has resulted in massive increases for imported fuels.
How bad is it going to get?
As most of the causes of this crisis, such as demand and reduced production, are long-term issues, there's not much chance of this improving any time soon, especially as EU countries head into colder months, putting even more pressure on production.
However, it's expected that some of the huge increases were a result of speculation and fear of future shortages, and may settle down over the next few months, however, prices will still be higher than usual.
EU gas storage levels are at the lowest point they have been in around 10 years, meaning that demand will remain high and subsequently, prices will remain high over this coming winter. This will be especially bad news, if this winter will be as cold as last winter.
There's also concern that the EU's Common Energy market, a system which is designed for EU states to share their energy resources and balance prices, is causing issues in countries where supply is limited. Both France and Spain have expressed their dissatisfaction with the current system and there's a serious risk that some countries may just refuse to stop sharing their electricity with one another, as this would basically reduce the amount of supply needed, as they will only need to cater for their own demand.
The economic impact of the crisis:
The main concern is about inflation, as energy is used for just about everything. Whether it be keeping lights on, heating homes or fuelling factories, if the cost of energy continues to increase, then the cost of everything will increase too.
The cost of production will increase, as they will need to raise their prices to meet their energy costs, the cost of storing produce in warehouses will also increase, as the cost of electricity and gas is higher than it was previously and also right down to running a store or restaurant will increase, as the inventory that they purchase from producers has a higher price in addition to their own energy bills. This could easily result in an increase of prices across the board, driving inflation and making things cost more than they did the previous year.
European governments are trying to find ways to change taxes and set price caps on energy, but this is not a long-term solution.
On October 6th 2021, dismissed prime minister Florin Cîțu said that he made a decision that his party and the Government will support the capping of energy prices and that they will ensure that energy companies do not increase prices beyond the current rates.