The spotlight has been cast on Cluj-Napoca's rental market following the listing of a markedly overpriced apartment at the meeting point of Strada Donath and Strada Taietura Turcului. Despite its alarming condition — with mouldy, damaged tile in the bathroom, and furniture seemingly untouched since the 1990s — the apartment carries a price tag of €250 per room, culminating in a hefty €500 per month for two rooms.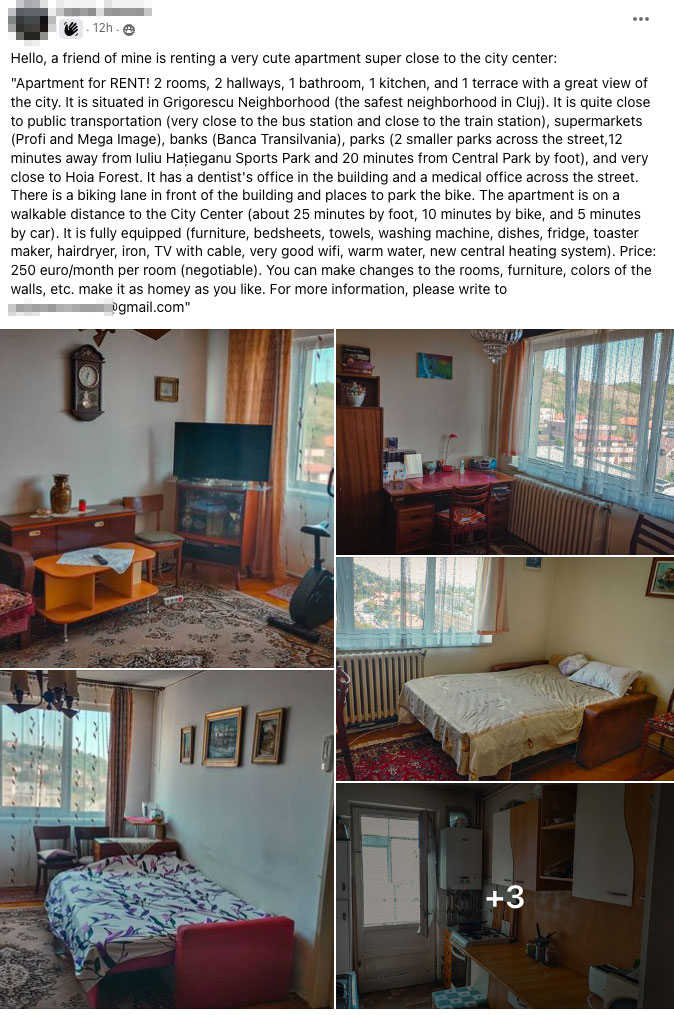 A Wide Gap Between Price and Value
While the advertisement paints a charming portrait of a "cute" apartment in a prime location, respondents to the listing have been quick to highlight the discord between the asking price and the real value of the property. One pointed comment reads: "#overpriced as hell!!! For that furniture, you shouldn't pay more than 200 euro per apartment!!!!"
Another user, detecting the hidden message in the listing, adds: "I love the sentence 'You can make changes to the rooms, furniture, colors of the walls, etc.' Which translated means: We won't invest a cent in necessary improvements; that's your responsibility."
The Ripple Effect of Targeting Foreign Students
It's primarily foreign students who fall victim to these exorbitant rents, a practice that unfortunately sends shockwaves through the broader market, affecting local affordability. As one user insightfully notes: "I'm renting an apartment in Liverpool which is cheaper than this."
Distorted Market Dynamics
This trend of charging foreign students inflated rents inadvertently reshapes the market, normalising unjustifiably high prices and making housing unaffordable for many locals. The average after-tax salary in Cluj-Napoca stands at approximately 4764.16 Lei (€957.68). With an average rent of 2,916.80 Lei (€586.33) for a three-room apartment outside the city center, paying €500 for a subpar two-room apartment consumes an overwhelming percentage of the average person's income.
In this context, with residents spending a substantial portion of their salaries on rent, the expected tax increase in Romania in 2024 further exacerbates the situation. The impending hike will see taxes on certain quality-of-life services jump from 5% to 19%, placing additional financial strain on residents.
A Misleading Employment Landscape
Fueling these rental expectations is the misconception that most residents in Cluj-Napoca are employed in the lucrative IT sector, which is known for higher salaries. However, this isn't the reality for many, leading to a market skewed against those earning average or below-average incomes. The current minimum salary before tax is 3,300 (2079 lei in-hand) and set to increase to 3,750 in 2024, but there will also be changes to the taxation for employees.
Time for a Market Correction?
Unchecked, the current rental trends in Cluj-Napoca risk deepening the housing affordability crisis for all residents, not just students. As the city continues to grow as an educational and cultural hub, there's seemingly an urgent need for regulatory intervention. This would protect both foreign students and locals from predatory rental practices and ensure that the housing market remains accessible and fair for everyone, especially with the shadow of tax increases looming on the horizon.