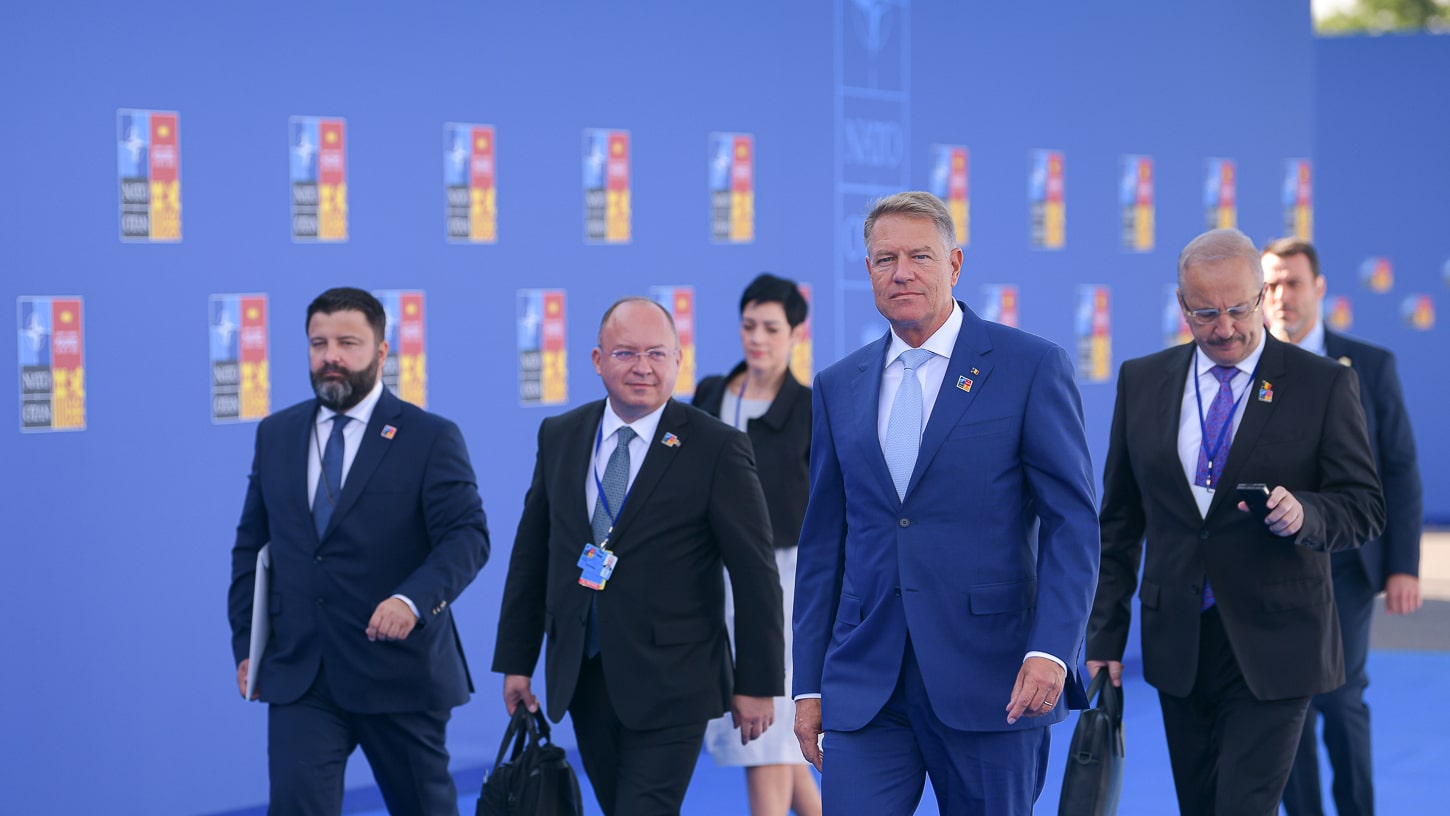 NATO leaders have been meeting in Madrid, Spain over the past few days. Following the adoption of the new NATO Strategic Concept, Romanian President, Klaus Iohannis informed that Romania has fulfilled all of its objectives during this summit.
"This summit is one of the most significant allied meetings in recent years in terms of results for Romania. All the objectives we set for ourselves have been achieved and resolved in the sense requested and hoped for by us," said the President.
Hello!
Things moved fast today, we have finished the first session of the NATO Summit and we already have very important news for the nation, as they say.
It was a meeting with a profound significance for the Alliance, but also for Romania in the current security context.
The focus of our discussions and decisions was obviously Russia's military invasion of Ukraine and its long-term regional, Euro-Atlantic and global implications.
Together with the other allies, we have taken decisions of major importance, which make the North Atlantic Alliance a stronger, more efficient and more international organization.
First, we decided to strengthen support for Ukraine by adopting a strengthened package of assistance measures.
Secondly, we have adopted a new NATO Strategic Concept, which provides the major directions for action for at least the next ten years, as we presented the intention this morning.
You remember that Romania was the first allied state to support the need for a new Allied programmatic document, and today this new document was approved.
Thirdly, in the context of dramatic security developments in Ukraine, we have decided to strengthen the long-term Allied stance of deterrence and defense on the Eastern Flank. This is an absolutely necessary step, which we have insisted on, especially after February 24 this year, in all the discussions we had at NATO, but also with our allies. Therefore, we have agreed on a framework that ensures the parameters of a position capable of responding effectively to all threats.
Here in Madrid, we decided to intensify support for partners, especially for those in the Eastern Neighborhood, including the Republic of Moldova and Georgia – the most exposed to the effects of security developments.
All these decisions respond to a major request made by us, by Romania.
I would like to emphasize here that this Summit represents one of the most significant allied meetings in recent years in terms of results for Romania, for our country. All the objectives, I repeat, all the objectives we set ourselves were achieved and solved in the sense requested and hoped for by us! This is the result of a team work, for which I want to thank all those involved.
Regarding the Strategic Concept, it adequately reflects the current security situation, being strongly anchored in reality, as requested by Romania.
In addition, Russia is defined as the main threat to Euro-Atlantic security, as we explained this morning that Romania has requested and as presented in the Bucharest Format 9 Summit Declaration, which we hosted a few weeks ago. Moreover, we have managed to have, as proposed by Romania, a strong reconfirmation of the strategic importance of the Black Sea for Euro-Atlantic security.
For the first time, the Black Sea is mentioned in a NATO Strategic Concept, ensuring an unprecedented visibility of the Black Sea and the entire area in which we are – which unequivocally reflects where NATO is today.
The Strategic Concept also reaffirms NATO's commitment to the security of its East Side allies. Moreover, as part of the strengthening of NATO's position on the Eastern Flank, reference is made to a substantial and persistent ground presence, the strengthening of air and missile defense, the pre-positioning of military equipment and the improvement of reinforcement infrastructure, which are particularly important for Romania.
Now, both the North and the South of the Eastern Flank have a similar structure, which is based on the American presence and the Battlegroups, which ensures the coherence of the position on the entire Flank, as we have always demanded.
President Biden's announcement regarding the additional American presence in Romania, by deploying a Combat Brigade Command in our country, once again expresses the solidity of our Strategic Partnership with the United States of America. Supplementing the American presence, which we have constantly supported, will have a beneficial role for Romania, but also for the security of the entire region.
Beyond the announcement of the United States of America, following the Allied decisions of these days, the Battle Group established in Romania can be increased from the battalion level, as currently established, to the brigade level – if the security situation requires it. We are working closely with France, which, as you know, is a framework nation in this structure.
We also decided that the battle groups should benefit from the reinforcement forces precisely assigned to them and from the pre-positioning of equipment, but also of ammunition.
As I said, the defense starts at home.
That is why we have presented to the Allies the measures taken at national level, in particular the increase of the budget dedicated to defense from 2% to 2.5% of GDP starting next year, with 2023.
At the same time, I would like to inform you that Romania was among those who supported the increase of the Common Budget of the Alliance – ie the money allocated to the Alliance as such for its functioning -, a decision in the interest of Romania. An increased budget ensures an efficient implementation of all measures adopted.
At the same time, today we decided to adopt additional support measures for Ukraine, the Republic of Moldova and Georgia, as well as for other partners, depending on the needs and specifics of each country. Romania is determined to be actively involved in the implementation of assistance packages.
Last but not least, we have made important decisions to adapt the Alliance to the challenges of the future.
In this regard, I mention the launch of the NATO Innovation Fund and the signing of the Charter on the NATO Innovation Accelerator, in which Romania has already announced its participation.
I would also like to welcome on this occasion the decisive progress regarding the accession of Sweden and Finland to NATO, to which Romania has also contributed and which will make the Alliance stronger.
At the end, and here we are at the end of the first session, but for us it contained many important packages, through the decisions taken, the security of Romania and of every Romanian is better ensured.
If you have any questions, please!
Question and answer session:
Journalist: Regarding the decision of the United States to supplement the presence in Romania with a combat brigade, President Biden mentioned in the morning almost 5000 soldiers, we saw that you had an exchange of remarks with the President of the United States. Can you tell us if there is a horizon? President Biden spoke of a rotating brigade, perhaps Can you tell us a little bit about how it will work?
The President of Romania:Indeed, we had a short discussion with President Biden and the topic was, the main topic naturally was to increase the American presence in Romania and implicitly in the region. Now, during the actual session, President Biden repeated and said that he is supplementing the presence in Romania with a Brigade Command. That must be well understood. Command means that a brigade will be formed along the way to be led from this command. Of course, the technical details will be negotiated in the coming days and weeks, discussed between diplomats and the military so that we know exactly what time frame we are within. But it is important, and it seems very important to me, that there is this intention declared by the President of the United States to significantly supplement the American presence in Romania to come to the brigade level with this presence. The rest of the details will certainly be communicated when negotiating and making very concrete decisions, but the announcement is very, very good for us.
Journalist: For all that has been announced, do we need additional investments or do we fall within the 2.5% of GDP allocated for the Ministry of National Defense?
The President of Romania: These decisions that I have stated as wishes or wish lists this morning, which materialized in the decisions of the first session of the Summit today, are all political decisions. We know that all these political decisions involve additional expenses, involve additional personnel, involve additional specialization for many soldiers and ours, obviously involve a lot of tasks to be done by the host of these troops. We are willing to do that and I am convinced, I know, that this increase in the budget from 2 to 2.5% will create a sufficient budgetary framework to be able to achieve everything we set out to do and what others expect from us.
Journalist : Following the visit of the European Commissioner Věra Jourová to Bucharest, information appeared that it is possible to lift in Romania the cooperation and verification mechanism in case the justice laws will pass the parliament in September. How real is this possibility?
The President of Romania:It is very true, and I have discussed these issues with the Vice-President. I have been discussing these issues of raising the MCV since I became President with all the chairmen of the committee, with all the vice-chairmen responsible for that field. For us, the progress was variable, we had periods when we progressed well and we all thought that there is little left and the MCV rises, then we had a stage of sad memory in which it seemed to us that MCV never rises again. because the Parliament at that time approved a set of laws that took us in the past and not in the future, after which things started to go in a better direction after the last Parliamentary elections. But we lost a year. So, the year after the parliamentary elections, the first year, In the first coalition, time was wasted because things did not work out. Now it has all resumed and there are indeed premises for resolving this issue, but I want us to understand each other well, it is not as resolved. There is a possibility to solve it if the laws of justice will be repaired, corrected as at least I have promised since they were broken in 2018, if the Codes will be finalized, if the whole procedure we have undertaken to do will be traversed. It is a very tight schedule that would be under discussion if we do everything that can be done, once again, and what we want to do. It is a sensitive difference, we do not do these things because someone comes and forces us to do them, we want to do them, we want to have an independent, functional justice that needs improved laws, we want clearer, more transparent procedures. If this is the case, it is possible to lift the CVM mechanism by the end of the year and move to the rule of law verification mechanism that has been set up for all Member States of the Union.
Journalist: Mr. President, you said that Romania will be actively involved in everything that means those assistance packages. What does this mean in the next period, for example, for Ukraine – we will help them with weapons, military equipment? And if you will allow me a second question: you will have a working session in which China will also participate. Are there any concerns within the Alliance about China's inclination towards Russia and what is Romania's position towards China at the moment?
President of Romania: I don't think China will participate, but the discussion will also be about China. Let's start with Ukraine. It is well known what we are doing for Ukraine and we will continue. We receive refugees, we help those who stay in Ukraine, we support Ukrainian state institutions and so on. Not everyone in Europe has yet reached the level where Ukraine can actually and very concretely help. Instead, a new sector has emerged where we can become a relevant player and I am talking about the export of wheat from Ukraine to international markets, an issue where we have offered to get significantly involved and the Government has been working for some time to improve logistics lines. necessary for this. We here will not only be good neighbors, we will help Ukraine a lot.
Reporter: There are concerns at the Alliance level about China's inclination towards Russia, because it is American officials who have expressed these concerns. They even said that this new NATO Concept would cite China as a security concern.
The President of Romania:I clarified that China does not participate in the Summit, this is where I actually wanted to get to. China is first mentioned in the Summit documents. So far no one was able to send in the perfect solution, which is not strange. It is a legitimate concern, because it is a rising world power. China is a leading global economic player and we are concerned that Russia has not given up on "special military action" in Ukraine. On the other hand, we also notice that experts tell us that trade between Russia and China has reached an unprecedented level. That means they are collaborating, hence this additional concern of ours and we will discuss these issues. We have in this afternoon's sessions and tomorrow's partners, guests, special guests,
Journalist: Mr. President, you also mentioned that among the decisions of the Summit is the possibility to raise the Battle Groups on the Eastern Flank, including those in Romania, to the level of a brigade if the situation requires it. What does it mean if the situation requires it, what decision-making circuit should this transition from the battle group to the brigade go through, and in real terms what military forces it would be, we know that a battle group has 1000 soldiers, as far as it could to increase this allied presence? Thanks!
The President of Romania: If and when the situation requires it, the military will determine. And here, indeed, we have a paradigm shift. So far, Allied presences have been made rather on the basis of bilateral agreements. And if action was needed, then each commander would contact the national commands and an action would be organized. It is now intended that this command be centralized much better at the SACEUR level, ie at the Supreme Allied Command. It is a very important paradigm shift, but the decision, or rather, the proposal to come with new soldiers, to come with other weapons, to come with other presences, these issues are proposed by the military and are then approved by the structures. North Atlantic Council. So we're not talking about political decisions, that's what I wanted to emphasize here.
Journalist: Noting the fulfillment of all Romania's objectives, and it is a good thing, which we are also happy to see happen, you talked about 2.5% of GDP allocated to Defense starting next year, for a period of 10 years. It is very good, it is justified, only that the world is not in an extremely favorable economic and financial situation. How will this be done without suffering other equally important areas, recognizing security as an extremely important area during this period. Thanks!
The President of Romania:For a nation to exist, survive and matter, it must first be secured. And this also refers to territorial integrity, to sovereignty, to the right to decide the course of the nation in full freedom. And for that we must be in a position or position to defend ourselves from anyone who intends to ruin either our independence, or our sovereignty, or our territorial integrity. And then, unfortunately, we see that after the Second World War, in Europe we are again in the situation where investing in security becomes an essential issue for the existence of the nation. And then there is no question of where we get the money from. This money must be made available. But the Government will know in advance to make the budget so that it does not suffer the other areas. There is just as much need for education, health, digitalisation, the whole package that makes the economy more sustainable and less polluting, so Green Deal – the green deal made at European level – remains standing. All this needs to be funded and it is clear that, in addition to allocations in various areas, we need to start collecting taxes and fees from around the world. There is still an area of ​​gray economy, or underground economy, that needs to be discovered, that needs to be brought to light, and that will bring money to the budget. we need to start collecting taxes and fees from everyone. There is still an area of ​​gray economy, or underground economy, that needs to be discovered, that needs to be brought to light, and that will bring money to the budget. we need to start collecting taxes and fees from everyone. There is still an area of ​​gray economy, or underground economy, that needs to be discovered, that needs to be brought to light, and that will bring money to the budget.
Journalist: Mr. President, the United States announced a few days ago that it will finance with 14 million dollars the design of small modular reactors in Romania. What does this mean for regional energy security, especially in the current context, and how was our country selected for the implementation of this project?
The President of Romania:This selection was made because on the sidelines of COP26 in Glasgow we had a meeting with Mr Kerry, the US Government's special task for climate change prevention projects. Of course, before there were probes, there were contacts between the line ministries, but then we decided together to go this way. Romania is the first country in Europe where the new American technology of small modular reactors will be implemented. You see, the first step is taken, we go to a design, after which we will effectively implement these reactors. It is already known where the first reactor will be located. In addition to having new access to this technology and receiving such modular reactors, we will be in a position, after a few years, to produce new such reactors and make them available to other allies and partners. So,
Journalist: Mr. President, you have listed all these extremely important decisions that NATO has taken at this Summit, and I am referring here to perhaps the most important mobilization to date: strengthening NATO security, but also the Eastern Flank. And it is in this context that I would ask you if there is still a fear, at least, that Russia will not have an even more aggressive response to these measures. Thanks!
The President of Romania : The paradigm we are working on is to support Ukraine, but not to go so far as to provoke a military conflict between NATO and the Russian Federation. We consider that there are no reasons that can be invoked, our actions are all, I repeat, all strictly defensive. We will strengthen the defense position on the Eastern Flank, we will strengthen other areas, we will go on research and so on, but none of them have an aggressive component against the Russian Federation. But Russia must also understand that it would be good to do the same and not continue in Ukraine. Thank you!
The United States also announced that it plans to increase its military presence in Europe and that 5,000 troops will be deployed in Romania.
NATO's rapid response force will go up from 40,000 to over 300,000 military personnel. "This is the biggest overhaul of our collective defense since the end of the Cold War that will be agreed at this Summit", said NATO Secretary General Jens Stoltenberg. 
Parts of the NATO Strategic Concept now specifically mention the Black Sea, which is significant, because this is the first time it has been included as a part of the core strategy.