HiSky, will begin operating flights from the Avram Iancu International Airport Cluj (CLJ), with both regular flights to Dublin and Lisbon, as well as charter flights to Morocco, Egypt, Tunisia and Turkey.
The airline will begin operating regular flights to Dublin from April 22, 2021 and to Lisbon from April 25, 2021. The price for the destinations are starting from €49.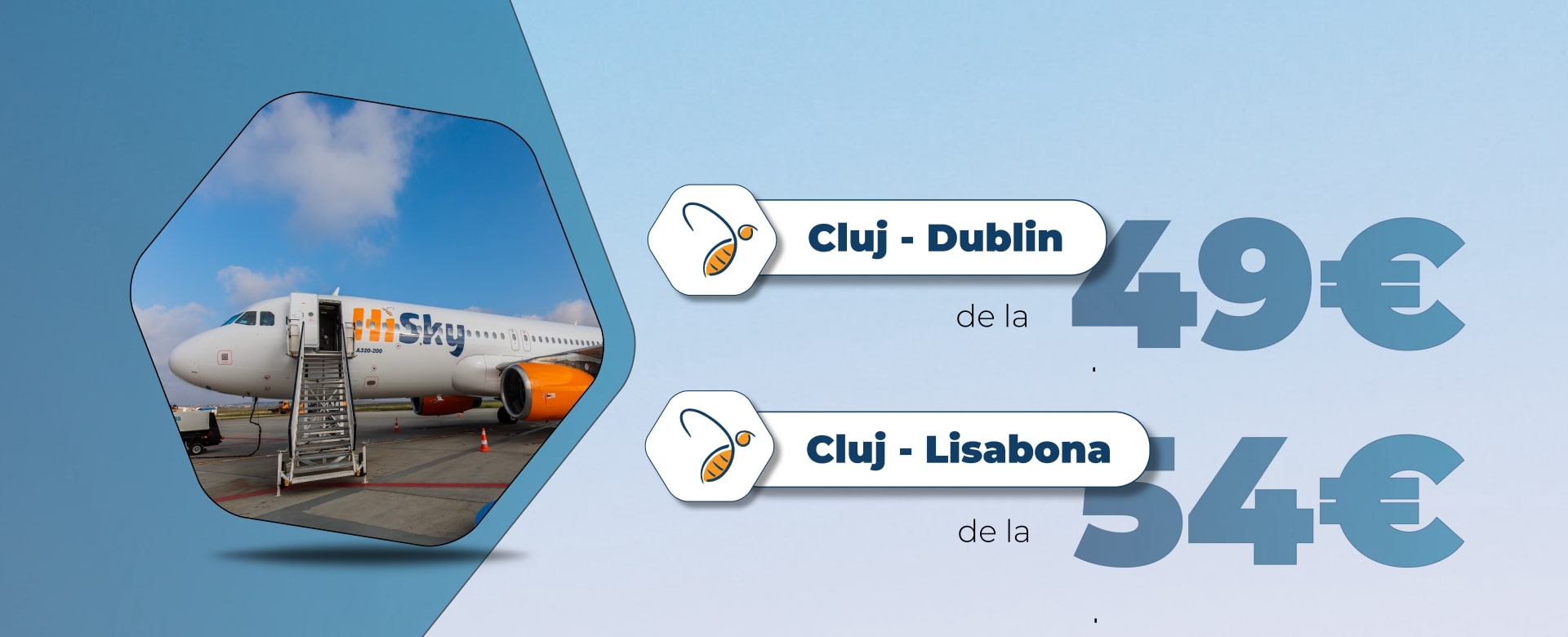 Cluj-Dublin flight: 12:40 P.M. – 02:10 P.M.
Dublin-Cluj flight: 00:20 A.M. +1 – 05:30 A.M. +1
Cluj-Lisbon flight: 05:00 P.M. – 07:10 P.M.
Lisbon-Cluj flight: 08:10 P.M. – 02:00 A.M. + 1
HiSky is the first airline to operate flights to the Portuguese capital, which is sue to boost tourism traffic.
In addition to the regular flights, HiSky and Amara Tour have signed partnerships to provide charter flights from the airports located in Cluj Napoca, Targu Mureș, Oradea and Baia Mare to Hurghada and Sharm El Sheikh (Egypt), Antalya (Turkey), Monastir (Tunisia), Agadir (Morocco).
"We are happy to be the air carrier of tourists who choose holiday packages from Amara Tour. HiSky will provide them a young, safe, comfortable aircraft and friendly crews. We will operate charter flights to and from four Romanian airports, and this gives us the opportunity to easily transform them into permanent operational bases of our company", said Commander Iulian Scorpan, HiSky's general manager.
"For us, the partnership with HiSky means an increase in tourist services we offer to our customers. Starting this year, our tourists will be able to go on holiday to a completely new destination – Morocco – along with other favorite holiday destinations – Egypt, Tunisia, Turkey. The flights will be operated by a professional team with many years of experience in aviation and an Airbus A320 (YR-SKY) aircraft, which has only 10 years of operation", says the general manager of Amara Tour, Haithem Souani.
HiSky launched on the aviation market in February 2020 and offers passengers tickets to several major destinations in Europe. HiSky services are available in four booking classes: basic, classic, premium and premium plus. Prices, services or any other information about HiSky can be found on the airline's website, www.hisky.aero