Disclaimer: Neither the author or ClujXYZ.com is receiving any compensation for the publishing of this article. The views stated in this publication, are that of the author, and details regarding the apartment believed to be entirely factual at the time of publishing.

Important
This apartment is no longer available to be rented. This article is purely for archival / entertainment purposes.
Here's a unique opportunity, to make one of the city's most well-loved attractions your home. If you're a creative kind of person, don't pass on this opportunity to check this place out!
There have been numerous attempts around Cluj, to create unique and interesting places to live, but we're pretty sure that this one tops the list. Formerly "Q Caffe", this 84sqm, fantasy world, has been converted with extreme attention to detail and love, into a loft-style apartment, in the heart of the city.
The property is located right opposite the city hall on Strada Petru Maior, and has a winding staircase, which leads you up the first floor, to the entrance, behind some beautiful wooden with coloured-glass, double doors. The owner, also explains that the entire area is secured with CCTV and also has access to the shared courtyard space.
He explained that, right now, the apartment is being used for Airbnb rentals, but he prefers to have a long-term tenant, who can settle in and make this their home. He also said, that he understands that there may be some requests for a few changes to suit a long-term tenant, and that he's open to doing what needs to be done, to make it more adapted to that person's needs.
The change from a cafe to an apartment, was not the result of the pandemic, he mentions, but something that was planned for quite some time, and that in a way, he's thankful for the fact that he made the conversion before the pandemic started, as a lot of leisure venues were impacted pretty heavily by COVID-19.
About the Design
Okay, let's talk about the design of this place. From the outside, it looks pretty much like any other building in the area, with the exception of a purple glow, peeking through the windows, when the impressive lights are on inside and the sun is down.
You pass through a pretty normal hallway, which also has a shared courtyard at the end, and up some winding stairs to a set of double doors. It's at this point, that you enter an entirely different world.
Lucian, the owner and designer of the space, explains that the artwork depicts one's journey through life. Every single detail has been thought through, so that pretty much anybody, can related to the artwork and see how we all share a similar journey through life.
We believe that it's important to find your own story in the artwork, so we won't get into too much detail of what the story entails, but instead, recommend that you go see it for yourself, and interpret each room in your own unique way.
The artwork took a very long time to create, and was designed by some of the top designers, who have also been responsible for designing some of Cluj's other most-loved destinations, such as Enigma Cafe, Submarine and Joben Bistro. The team, "The 6th Sense Interiors", have also designed places all over Europe, such as The Abyss Pub in Italy and Bunker in Slovenia.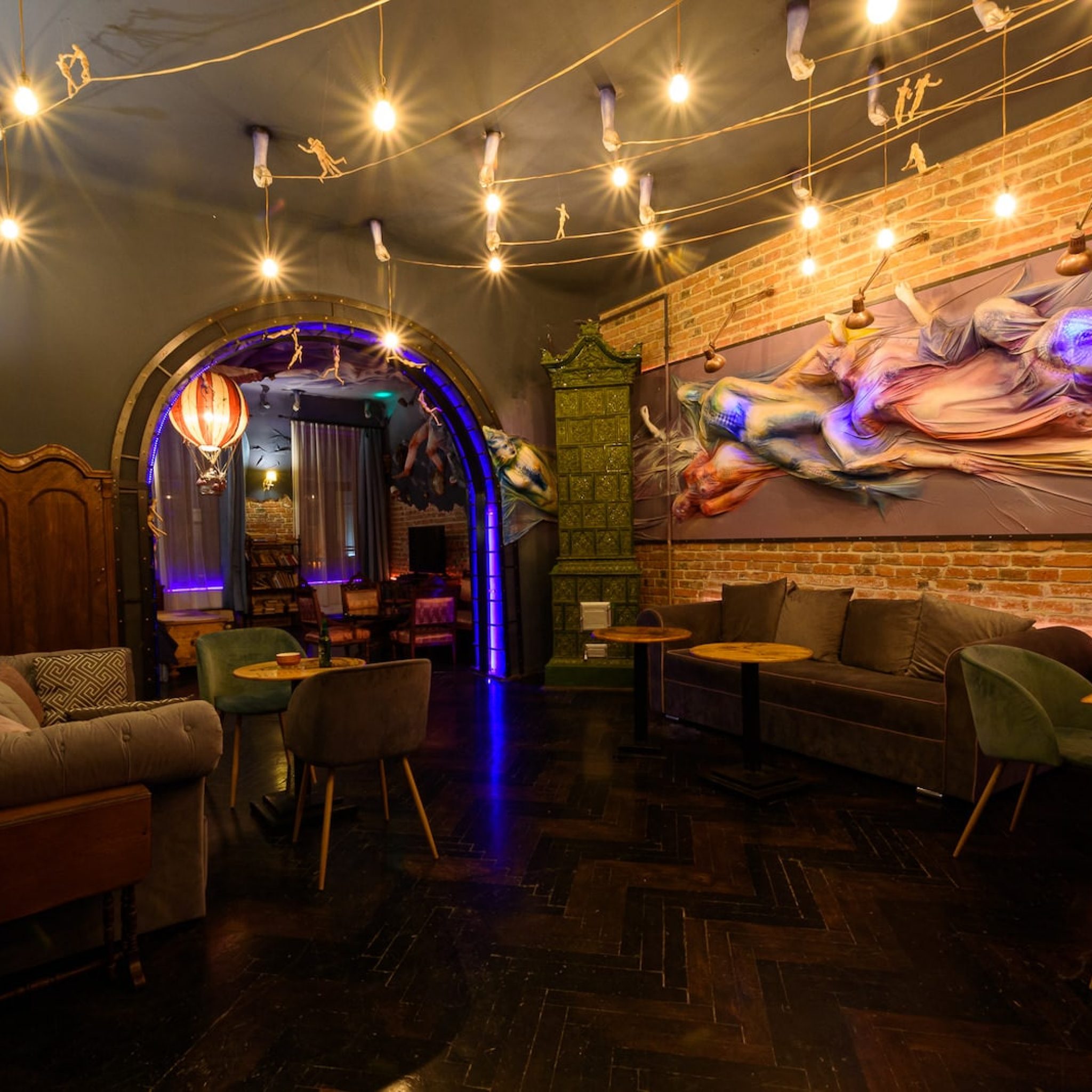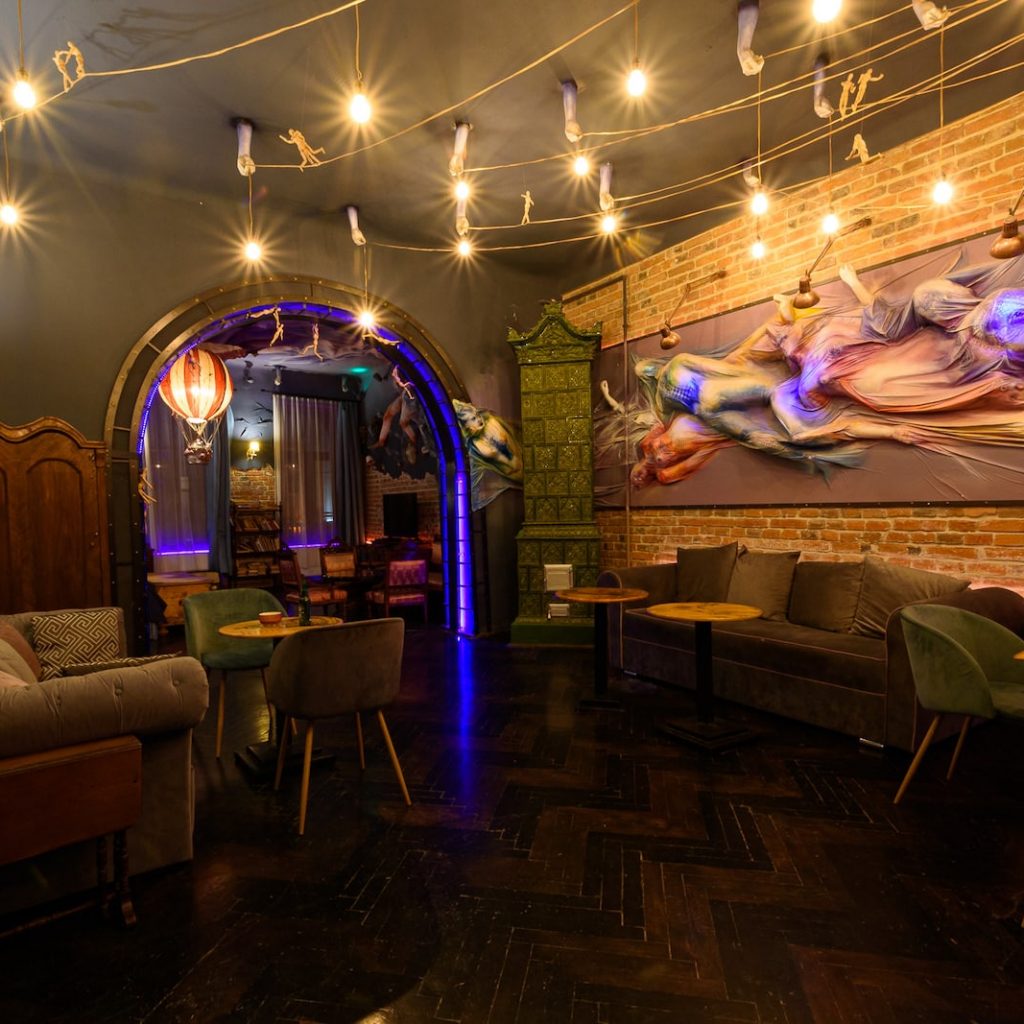 What about living?
Well, you might ask, how can someone live in a place which used to be a cafe? This is where creativity meets functionality.
Both couches in the main room, which also features a bar by the way, have the ability to extend into very comfortable sofa beds. This is perfect for when you have visitors, which of course, you will, because pretty much everyone will want to come hang out at your place from now on.
But don't worry, there's also a very decent sized bed just off from the main room, and this is where things start to become really cool.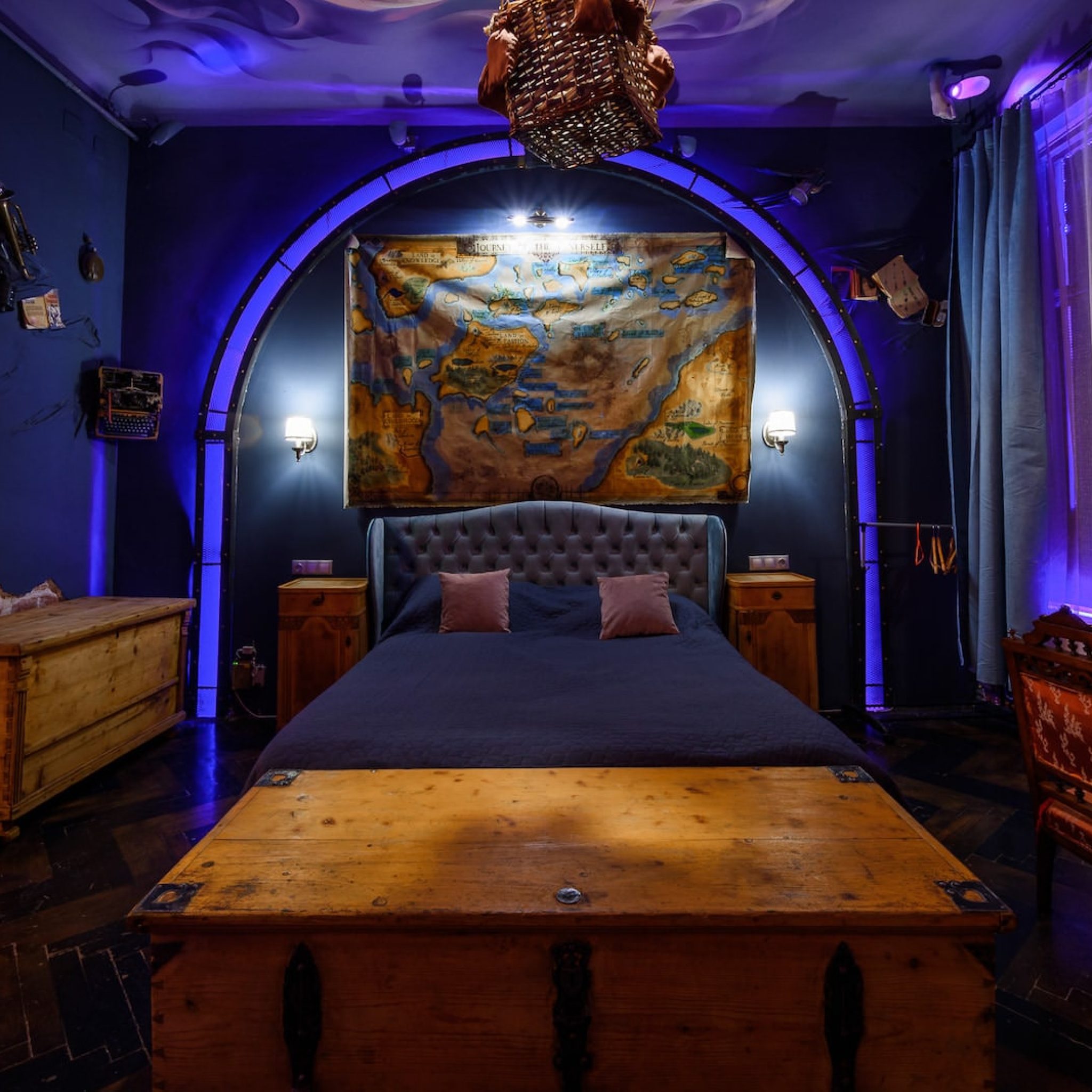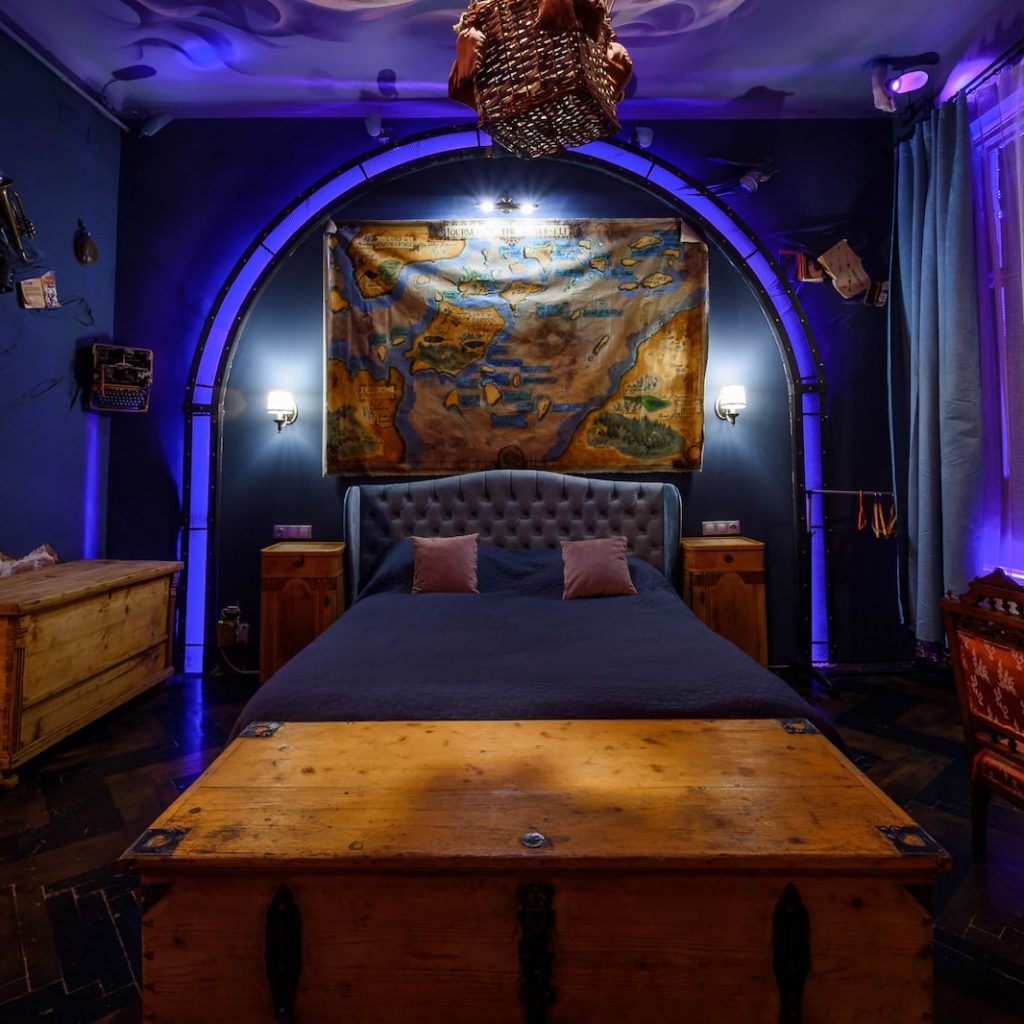 Talk about mood lighting. This place has the option to pretty much control all of the lighting independently, and what's great, is that pretty much all of the bulbs are special LED bulbs, that are both energy saving and long lasting.
Lucian also informs, that if there's a need to change things up a little, to make it more fitting for the tenant, then he's open to making some adjustments or adding a few extra things that may be needed by the tenant, but feels that it's better to discuss these with the future tenant directly, rather than buying now, and finding that either they're not needed or they want to change it anyway.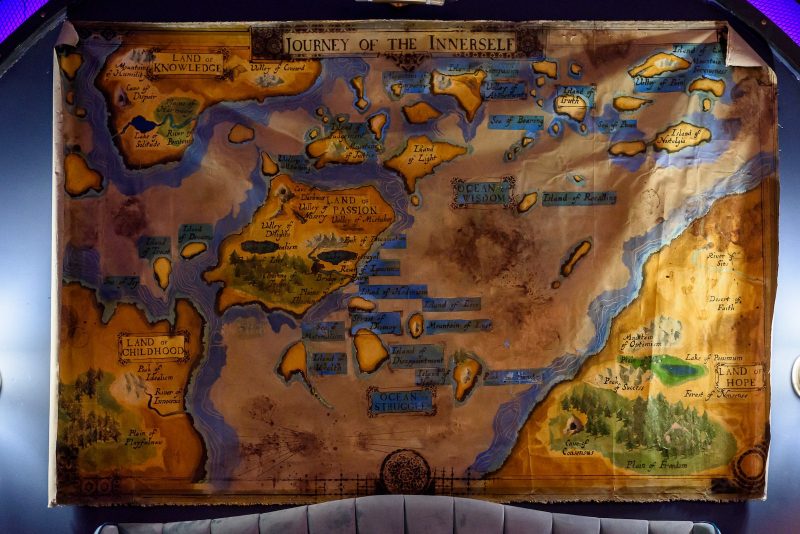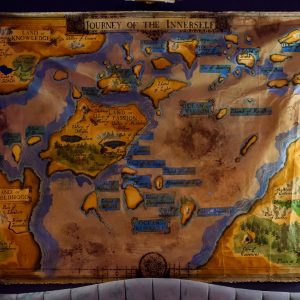 The apartment is heated using smart heating devices, provided by Salus Controls, aimed at reducing consumption and increasing efficiency.
Directly above the bed, is a super-interesting, hand-drawn and painted map, which pretty much anyone should be able to recognise, as it's outlines our journey and experiences through life.
The Kitchen (Bar) and Bathroom
The space which used to be the bar, has been cleverly converted into a small kitchen space. The owner explains, that he understands that the next tenant may have a desire to install an oven in addition to the existing electronic stove-top, and he wants us to let you know, that he's also able to meet those needs.
Funnily enough, the only time that you step back into the "real world", is when you visit the bathroom. You'll find fresh, white ceramic tiling, a nice full-sized walk-in shower and of course, a throne, which is what we're going to call the toilet considering that if you live in this place, you're practically a god in your own world.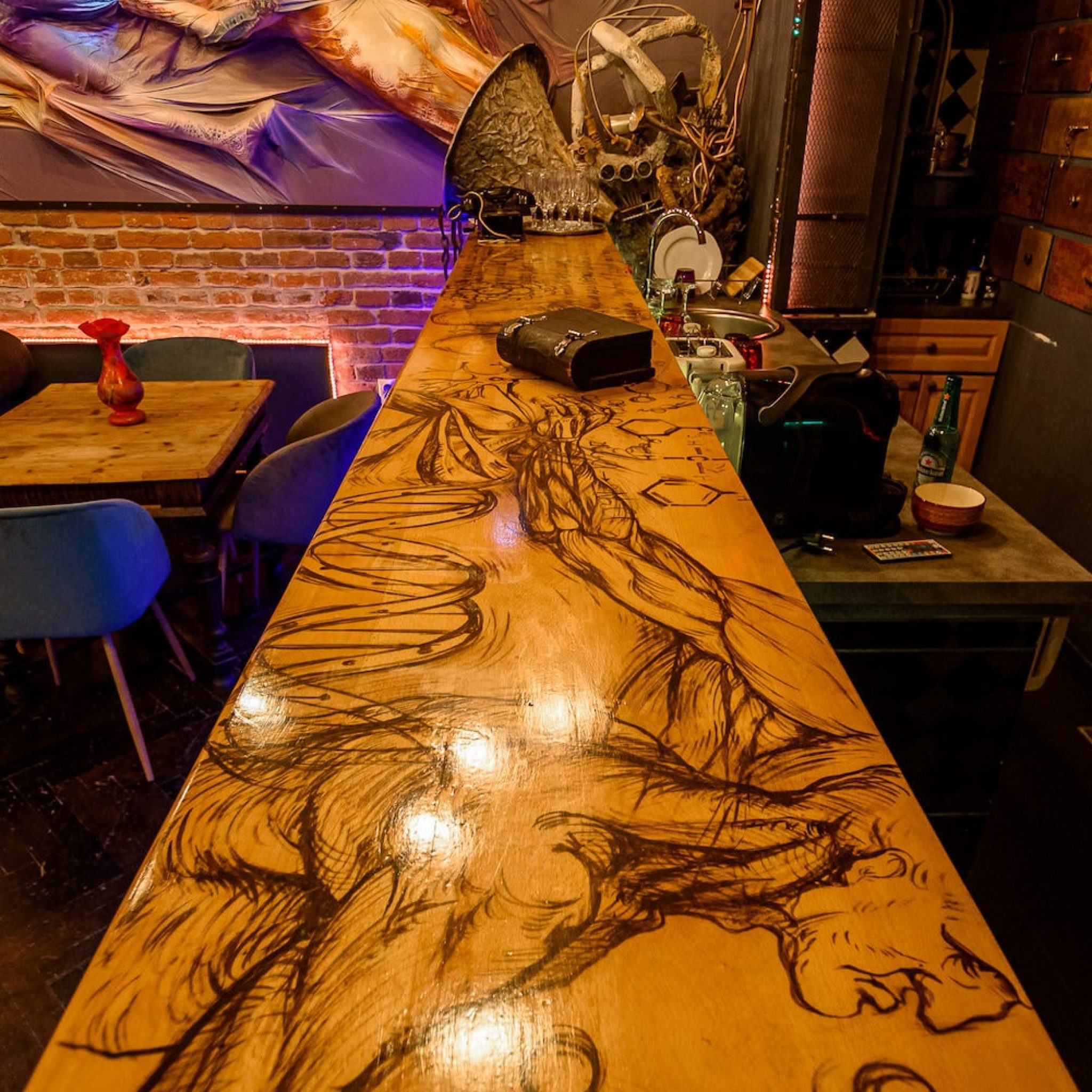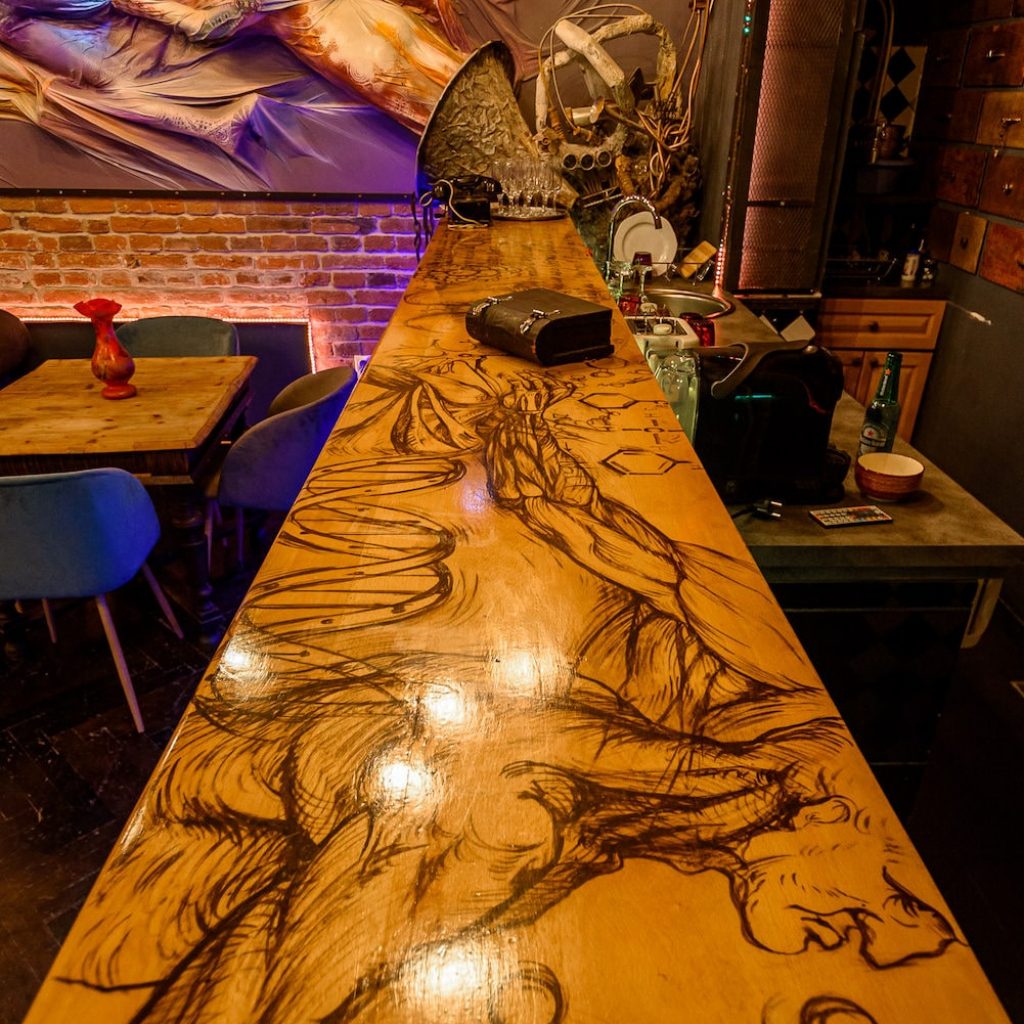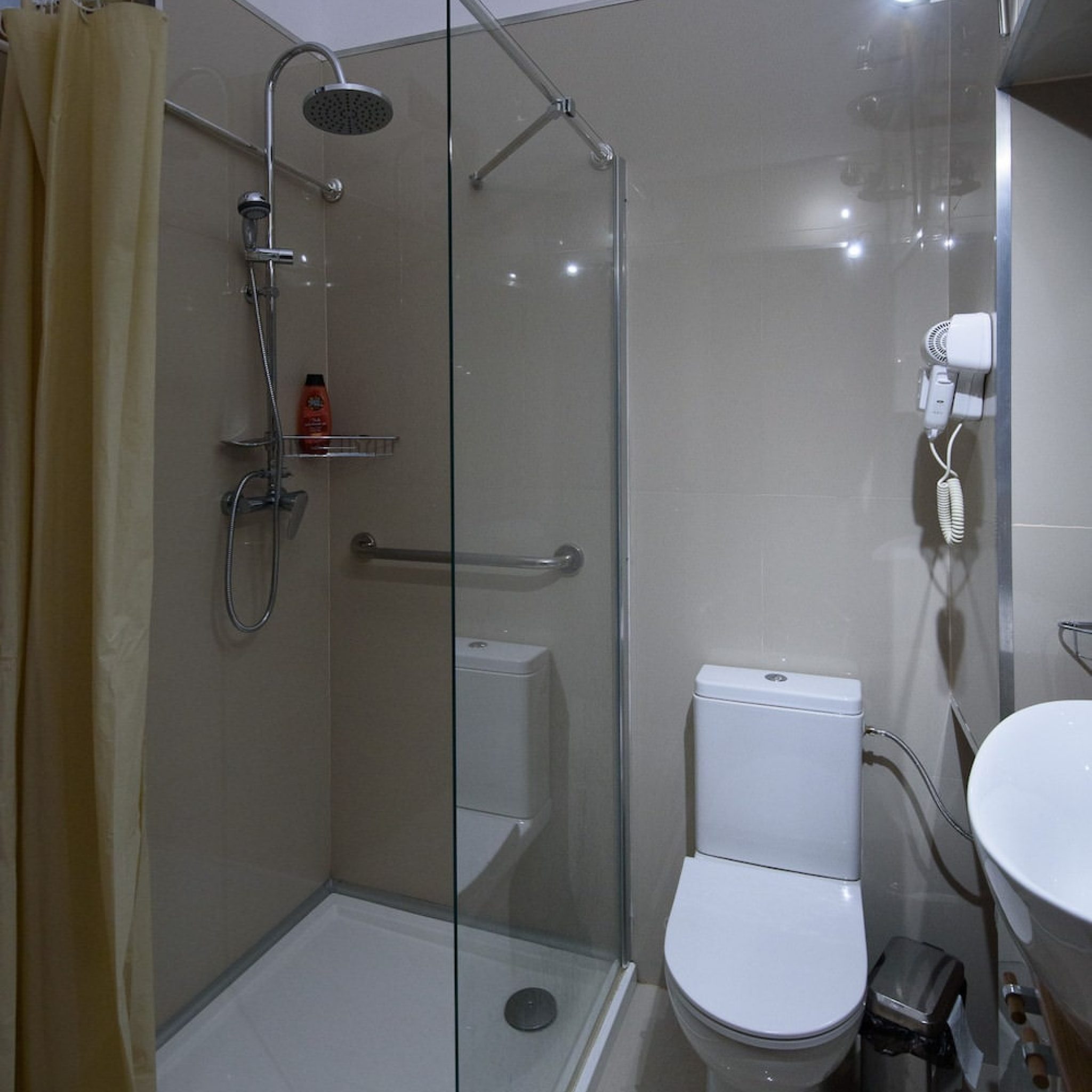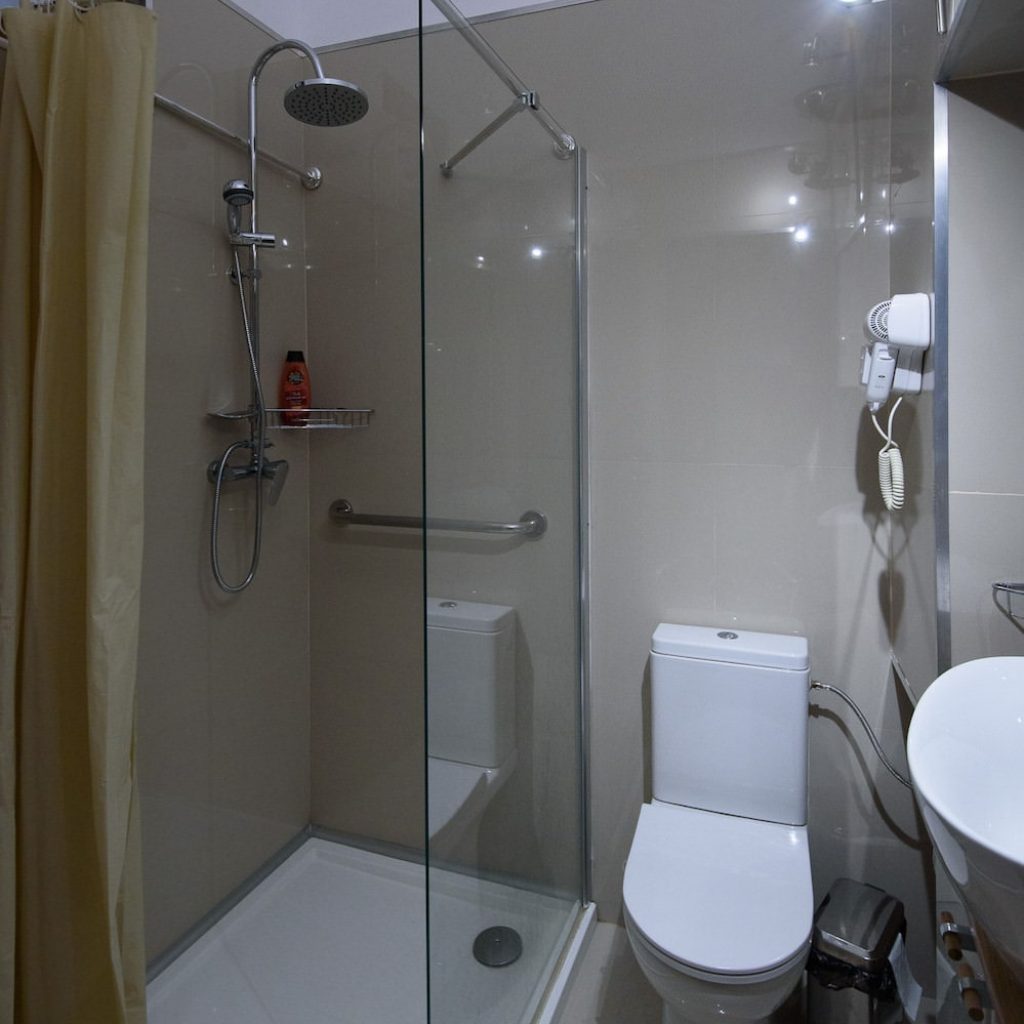 Why am I writing an article about this place?
Well, it's simple. This place is a complete gem. Unlike most other apartments and houses, this place is unique in the entire world. When it was a cafe, it was published on major media sites, such as The Independent and Bored Panda. Now it's our turn!
Real Estate in Cluj has been increasing in price over the past few years, often with nothing out of the ordinary to offer, compared to your average apartment found anywhere across the country. This place is something completely different. We really believe, that this place deserves as much attention as what went into the design of the place.
This place, can be a home for someone who enjoys art, or even someone who just wants something unique, special and completely different.
I can imagine, the kind of people who will want to live in a place like this, are likely going to be creative and social, however, I could be completely wrong, and find that someone, who just enjoys cozying up with a book, in their own fantasy world, ends up making this an extension of their imagination.
Either way, I firmly believe, that the world needs to know about this place, and this is my attempt at getting the word out there!
If you are interested in renting this awesome place, scroll down below the gallery to contact the owner. This is not an agency listing.