You might have already heard of a Transylvanian city that is so diverse and welcoming, so engaging and full of good vibes that it's almost a must for anyone to visit it at least once. Additionally, you might have already heard of our resident summer music festivals – Electric Castle and Untold at the Cluj Arena – as well and this may be the very reason why visiting this city has already been at the back of your mind for some time now. You may actually be on the verge of booking a trip here, which is so exciting, but let me ask you this: are you really considering yourself being sufficiently informed about Cluj-Napoca, this wonderful Romanian city, in order to be able to make the most of your either upcoming or probable trip here? Have you already got enough relevant tips in order for you to want to set an itinerary and have a blast here?
There's so much more to Cluj-Napoca than meets the eye. Precious urban gems are often hiding in plain sight here. There are lots of cultural aspects that might both intrigue and amaze you while visiting us and there's also an incredible number of ways to keep yourself entertained and for you to make new friends for life that will most definitely make sure you're having the best of time here and that your memories of your trip to Cluj-Napoca will stay with you forever.
As someone who's been living in Cluj-Napoca for some years now, I'm here to provide you with some interesting yet essential pieces of information about this city's main attractions. Here's an insider's view on what we call the city of Cluj-Napoca:
CLUJ-NAPOCA IS A CITY OF CONTRASTS
What strikes me the most, even now after having spent more than 8 years in this city, is how unexpectedly well the old architecture (whether it reminds us of both the Baroque and the Gothic styles, of the Belle Époque of Cluj-Napoca or of the late communist era) blends in with the more modern one. Take your time to visit the centre of the city and its surroundings for a more historical and romantic experience! It abounds with absolutely beautiful palaces (e.g., the Bánffy Palace, the Berde Palace, the Elian Palace, the Széky Palace) yet I'm positive that most tourists and locals alike agree upon St. Michael's Church, which is situated right in the Main Square, being the main architectural attraction. All these buildings have the power to transport you back in time, to introduce you to rare feelings and to help you relax and want to see more. Based on what season you decide to come visit, grab a cup of tea or a coffee, some mulled wine or simply an ice-cold lemonade/beer and begin your Transylvanian experience right where it should!
CLUJ-NAPOCA IS A VERY "PICTURE-READY" CITY
Perhaps, by now, you're already aware of the existence of our countless breathtaking buildings in Cluj-Napoca. They will most certainly look inviting to you as well and will make you feel inspired to create your own memories and make your own visual souvenirs through your ability of taking pictures. You should probably also know that this city has one of the most beautiful and tranquil parks out there (it has a lake that becomes a natural ice skating rink in the winter and a shade haven for the ducks and the paddle boat enthusiasts alike in the summer, enough sturdy trees for mounting hammocks and it's also in the vicinity of the Someș river along which you can take a well-deserved sunset walk). Our unique botanical garden that's particularly inspiring in the summer yet worth it even in the colder times of the year is also worth mentioning. The narrow, cobblestone streets that may actually take you to the next writing place of your Transylvanian story (if you let yourself follow their magic and walk in the footsteps of your excitement), the tram rides, the cosy book and tea shops, the clubs, pubs and tastegasmic food spots – they're all picture-ready at any time of the day and night. Whether you own a DSLR, a GoPro or a mighty good smartphone, anyone visiting this city can take home memories in the shape of pictures. You can have the best here: exquisite professional photos if you're a photographer or regular, amateur pictures with a unique hint of your own personality and perception that are just as precious as long as they keep the memories alive and bring a smile on your face every time you look at them. Even the clumsy selfies look good in Cluj-Napoca. It doesn't really matter if you're here for business, studying or just traveling for fun and self-development, if you're here for a while or just for half a day: Cluj-Napoca will definitely enchant you and make you smile, no matter the time. Your pictures will prove it. Say cheese! Say Cluj-Napoca!
A TOP VIEW OF CLUJ-NAPOCA FOR A TOP VISITOR LIKE YOU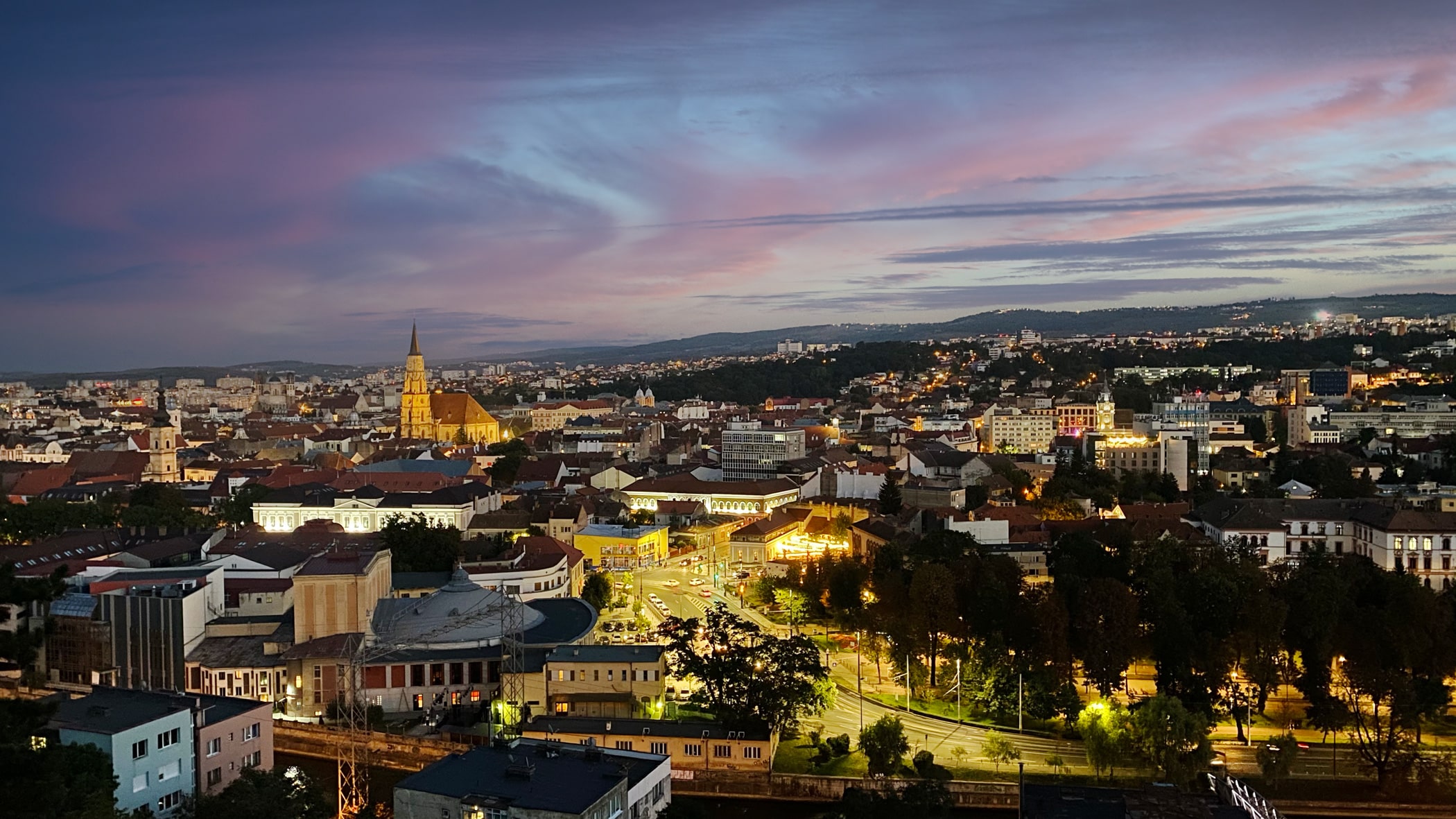 We've already established that Cluj-Napoca is a photogenic city. What about seeing it from above and taking pictures from up there: is this possible as well? Fortunately, yes, yes it is!
You don't have to go skydiving to be able to get a full glimpse of Cluj-Napoca from above (even if this is possible too). You have other options, more comfortable ones as well. Here are a few places we recommend you to try if you want to experience Cluj-Napoca from a certain altitude:
Of course there are some more places like these to enjoy the beauty of Cluj-Napoca from, but they're not always as accessible as the ones we've just mentioned. These would be: the Feleac Hill, Uliului Street, the Hoia-Baciu forest, the Făget forest and so on.
PEOPLE IN CLUJ-NAPOCA ARE MOSTLY WARM, FRIENDLY AND WELCOMING. GO AHEAD, GET TO KNOW THEM!
There are few places in the world where people are as nice as they are in Cluj-Napoca. Get to know them, get some drinks together if you find some people you vibe with and befriend each other! Ask for directions, tips, company and enjoy yourselves! Most people you meet will be more than happy to give you honest and useful information, both in English and in Romanian. Just be yourself and follow the general communication and safety rules you should be following anywhere else in the civilized world!
Welcome to Cluj-Napoca! Enjoy your stay!